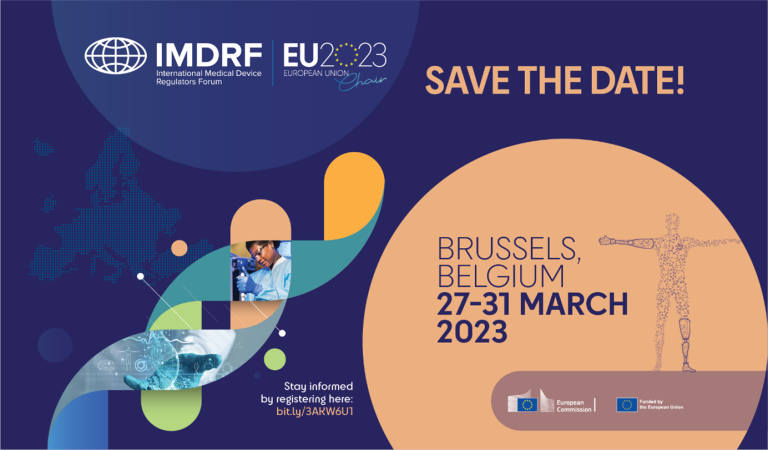 IMDRF 23rd Management Committee Meeting
Belgium, Brussels
27- 31 March 2023
The 23rd Session of the IMDRF will take place in Brussels, Belgium, for five days – visit our dedicated website for more detailed information and registration.
Public sessions: days 1 and 2 of the event (27/28 March) which will take place at Autoworld Brussels (Parc du Cinquantenaire/Jubel Park 11, B 1000 Brussels)
Closed sessions and invited guests: days 3 to 5 of the event (29/30/31 March) will be held at the SQUARE Convention Centre (Glass Entrance, Mont des Arts/Kuntsberg, B 1000 Brussels)
The meetings planned for these five days in Brussels, will make a significant contribution to the work of the IMDRF over the coming year. The IMDRF 23rd session overview includes:
Joint IMDRF Stakeholder Workshop – DITTA/GMTA - Day 1: 27 March 2023 - Sessions will focus on post-market related issues faced in the medical device field include burning topics like real-world evidence, vigilance and safety notices and post-market considerations for software and artificial intelligence
Stakeholder Open Forum - Day 2: 28 March 2023 - Hear from IMDRF stakeholders, Regional Harmonisation Initiatives and other interested regulators active in IMDRF
Management Committee Meeting (Open Session) - Day 3: 29 March 2023
Management Committee Meeting (Closed Session) - Day 4: 30 March 2023
Management Committee Meeting (Closed Session) - Day 5: 31 March 2023
Please see here the direct link to register to the events.